(Reported by: Zhong Jiayu) In December 25, 2019, one Boeing aircraft 787-800 was slowly towed from Painting Hangar of Haikou Meilan Airport, and it was the 300th aircraft that entire aircraft painting had been completed by HNAT-STTS Hainan Aerospace Painting Company Limited(abbreviated as APC hereafter), which represents that APC has stepped from a new milestone of development.
It was known that APC was established in the year of 2012 and was the first aviation painting company that was established in form of joint venture between HNA Aviation Technique Co., Ltd (shortened as HNA Technique) and France SATYS Group (shortened as SATYS) and has been professionally operated in China, and has provided premium aviation painting service to 31 clients in China and foreign countries. APC has progressively improved the painting hardware, facility and equipment and sent those painting personnel to attend the training in Toulouse Headquarter of SATYS Group in France to improve the aviation painting quality and efficiency. The evolution from initial 10 days that entire painting for one aircraft can be completed to 5 days of AOG cycle for entire aircraft painting has been achieved nowadays, which has completed the great-leap forward development.
Up to now, APC has completed the entire aircraft paintings for 300 aircraft and completed local painting for more than 60 aircraft. In the future, APC will inherit the core concept of "attitude, profession, and win-win cooperation", continuously learn the advanced technique and innovation processing, promote the multiple developments of painting business, and continuously explore the wide-body aircraft and business jet aircraft market. Meanwhile, APC has established friendly partnership with many domestic MRO and OEM manufacturers in China, and has achieved the multi-point arrangement and created more professional aircraft painting services to the clients in full aspects.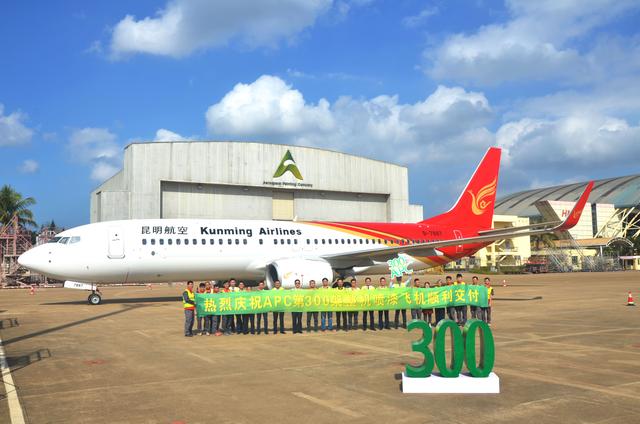 Figure: The 300th aircraft that APC completed the painting was delivered